The days when you had to buy a dedicated gaming rig and spend a load of cash for a quality gaming experience are long gone. Thanks to the iPhone (and iPod touch) and the App Store, you can get an excellent mobile gaming experience for just a few bucks (or quid, for that matter), or even less.
In fact, a lot of the games out there are free. But can you get great games for nothing at all, or is the 'free' section of the App Store just a shoddy excuse to bombard you with in-app purchases?
The answer is, of course, both. The trick is finding the gems amongst the dross, and what follows are our picks of the bunch: our top free iPhone games, presented in no particular order, including both long-time classics and brilliant cutting-edge recent releases. We've even included a VR game for you… aren't you lucky?
New this week: Infiniroom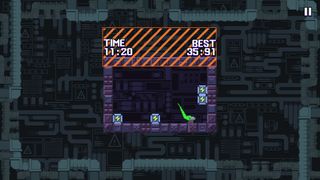 Infiniroom is an endless runner set inside a claustrophobic room. The dinky protagonist leaps from wall to wall, going in circles and avoiding electrified boxes that periodically pop-up.
Every now and again, a chunk of surrounding wall turns orange, before vanishing and opening things up a bit. But sometimes space within the room turns red – a warning that it's about to become wall again, and that you really shouldn't be there when it does. Lasers and whirling saw blades add further complications.
Each character in the game has a special power, designed to increase their longevity. But make no mistake: this is intense twitch gaming of the Super Hexagon kind.
Managing to survive for a minute requires almost superhuman reactions. Just be aware all those short games add up – Infiniroom might be brutal and frustrating, but it's also hugely compelling.