So you've got an iPad, but have come to the dawning realisation that you've got no cash left to buy any games for it.
Have no fear, because the App Store offers plenty of iPad gaming goodness for the (unintentional or otherwise) skinflint.
Haven't bought an iPad yet and not sure which is best? We've got them listed on our best iPad ranking – or you can check out the best tablets list to see the full range available now.
Our updated pick of the best free iPad games are listed right here.
New this week: Into the Dead 2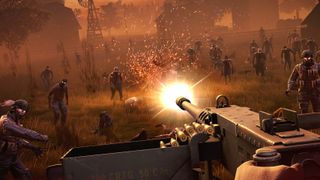 Into the Dead 2 finds you in a race to save your family, in a world overrun by zombies. Unfortunately, because you're a massive idiot, you crash your truck while heading their way, and must then travel on foot. Across 60 stages, you grab ammo, dodge the lumbering undead, and occasionally shoot them in the face. It's a frequently exciting, nerve-racking experience.
Also, it's an auto-runner. So instead of stealthily sneaking about or being able to hide, you're always blundering onwards (apart from during odd moments where you find a massive gun to satisfyingly mow down dozens of zombies in seconds).
The controls feel a bit weird – you kind of 'drift' left and right; but these limitations the game imposes ramp up the tension when you've dozens of undead before you, and are down to your last bullet.