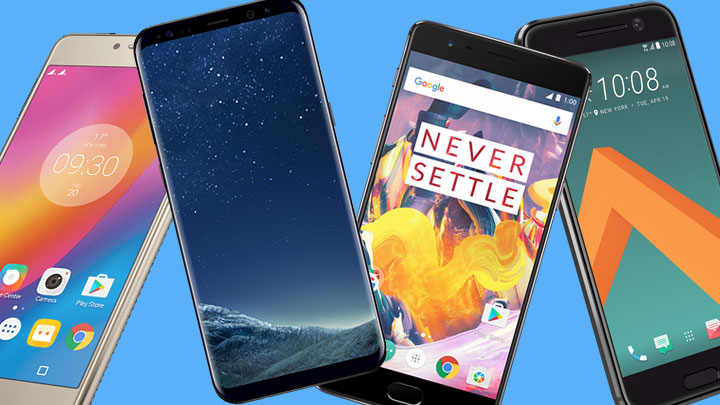 Overtaking Samsung's other large handset or the year, the fantastic Galaxy S8 Plus, Samsung's new Galaxy Note 8 has now taken the 'best phablet of the year' crown. No small feat given the battery problems that plagued last year's Note 7. 
Though its design is based heavily on the aforementioned Galaxy S8 Plus, the Galaxy Note 8 differentiates itself by being slightly bigger and sporting the signature squarish look that has been synonymous with the line since its inception. With its retractable S Pen and sophisticated look and feel, you'll know the Note 8 means business from the moment it's held for the first time..
Samsung's class-leading Infinity Display is better than ever here, with the Note 8's 6.3-inch display providing absolutely jaw-dropping HDR images and video from every angle. This is one screen that's bound to turn a few heads.  
The Galaxy Note 8 is also the most powerful phone that the company has ever produced, with 6GB of RAM giving it the processing edge over its S8 range. It's also Samsung's first flagship with a dual camera setup, allowing users to take impressive depth-of-field and portrait shots (under the right conditions) and take advantage of 2x optical zoom functionality.
Given last year's battery issues, it's perhaps not surprising that Samsung is not taking any chances with the Note 8's battery, having reduced the size of its significantly with the Note 8 – at 3,300mAh, it's 200mAh smaller than the battery featured in the S8 Plus, despite being a larger phone with an extra 2GB of RAM to work with. Still, in our experience, the battery has always managed to last a full day of regular usage. 
At $1,499, it's also one of the pricier phones on the market. If the Note 8's S Pen functionality isn't essential to you, the cheaper and similarly specced Galaxy S8 Plus might be a better option for you. However, if you're set on owning the most top-of-the-line phablet on the market, the Galaxy Note 8 is certainly worth the price of admission. 
Read the full review: Samsung Galaxy Note 8
See the best Samsung Galaxy Note 8 telco plans
See the best Samsung Galaxy Note 8 outright deals