Hot on the heels of a photo seemingly showing the Samsung Galaxy S9's backplate, we're now seeing purported renders of cases for both the Samsung Galaxy S9 and Samsung Galaxy S9 Plus, and they claim the phones might differ in more ways than just screen size.
The cases for the S9 Plus offer an interesting discussion point, because we've not seen as much of that phone, but they echo what we've heard before – namely that Samsung's larger handset will have a dual-lens camera on the back, while the standard Galaxy S9 will have just a single-lens one.
Other than that, a potentially slightly larger screen and a fingerprint scanner that's been moved from next to the camera to underneath it, the two phones look a lot like the Samsung Galaxy S8 and Galaxy S8 Plus, complete with a curved screen, a likely metal frame and a glass back.
With the number of leaks now suggesting this design there's a good chance that it's what we'll get, but will it be popular? Or will buyers feel short-changed by a phone that looks a lot like last year's model and in the case of the standard S9 doesn't even have a second camera lens?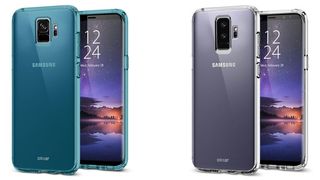 Learning from Apple
It's a tactic that's seemingly worked for Apple with its iPhone 8 and iPhone 8 Plus, both of which sport old designs and only the larger of which has a dual-lens camera, but then Apple also launched the iPhone X for buyers who wanted something truly new. 
There's no sign that Samsung has something more original on the way, unless the foldable Galaxy X lands soon.
So it will be interesting to see how much people take to these phones, and whether the S9 Plus is more popular due to its extra lens.
Of course, that's if this design is accurate. Although there's growing evidence for it nothing is official yet, and while these latest images were supplied to Mobile Fun by case-maker Olixar, it's highly possible that the company is speculating on the S9's design.
According to Mobile Fun, Olixar also claims that the Samsung Galaxy S9 will hit stores on February 28, following a mid-February announcement, whereas previously we'd heard rumors that the phones would be announced on February 26, likely followed by an early March launch – a big red flag over the validity.
So the dates don't jive with what we've heard so far, meaning it's hard to be confident that these are genuine renders rather than pictures based on internet rumors – but would you want an S9 if it only had a single lens?
The LG G7 might arrive soon too with a dual-lens camera of its own