It wasn't long ago that the PC mouse was no more than a two-button rodent used for neglecting the advice of Clippy in Microsoft Office. Nowadays, especially with optical and laser mice having overtaken the market, prerequisites for the best mouse have grown much more demanding. Gaming mice like the Corsair Glaive RGB are expected to implement hyper-sensitive sensors while non-gaming mouse makers have made refinements in other areas.
Overwhelmed with touchscreens, the PC space has largely transformed beyond its use of traditional mouse and keyboard input, but that hasn't stopped the mouse from seeing its own fair share of innovation. Some of the top mice are ergonomic, reducing your chances of developing repetitive strain injuries (RSIs) while others have adopted wireless technologies, such as Bluetooth and 2.4GHz over USB.
With so much to choose from, the best mouse comes down to personal predilection more than anything. Do you need a mouse whose ergonomics suit your ambidexterity? Maybe the touch-based gesture controls of the Apple Magic Mouse 2 tickle your fancy. Whatever the case may be, you can count on your needs being met by what we've concluded are the 10 top mice you can buy, including the absolute best mouse immediately below.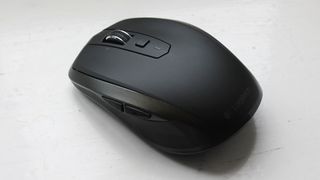 1. Logitech MX Anywhere 2
Versatile and feature-packed without going overboard
DPI: 1,600 | Interface: Bluetooth and 2.4GHz wireless (pairs with up to three devices) | Buttons: 7 | Ergonomic: Right-handed | Features: Scrolling wheel, Logitech Darkfield Laser Tracking, Unifying receiver, Easy-Switch tech, gesture function
Pairs with three devices
Compact and portable
Has a free-scrolling wheel
Non-removable battery
Can't use it wired
The MX Anywhere 2 is smaller than Logitech's flagship MX Master mouse, making it a more travel-friendly option. However, we find that it's a more comfortable fit for smaller hand and have been using it as our main rodent rodent in the office.
It connects using Bluetooth or 2.4Ghz wireless (using Logitech's dongle), can connecrt with up to three devices and sports excellent low-latency tracking which is helped by Logitech's Darkfield tech that makes the mouse usable on shiny surfaces. Like the MX Master, the scroll wheel can spin freely once you've depressed it, allowing you to scroll down long pages without suffering finger ache.
Logitech says that the Anywhere 2's non-rechargable battery will last up to 60 days on a single charge, which isn't something we can verify but we haven't seen it give up the ghost in half of that time. It's practical, portable and pretty much one of the best mice out there.
2. Logitech MX Master
A veritable spaceship of a mouse
DPI: 1000 | Interface: Bluetooth (pairs with up to three devices) | Buttons: 5 | Ergonomic: Right-handed | Features: Hand-sculpted comfort contour, Speed-adaptive scroll wheel, Thumb wheel, Darkfield Laster Tracking, Dual Connectivity, Rechargeable battery
Thumb wheel and adaptive scrolling
Pairs with 3 PCs
It's a lot of money for a mouse
May be a bit big for some
Logitech's flagship is a mighty mouse indeed. Hand-sculpted for comfort, the MX Master connects via Bluetooth or USB dongle and it can pair to up to three devices. The rechargeable battery lasts for up to 40 days and goes from flat to a day of power in four minutes, and you can use it while it's charging. The scroll wheel's a two-state job with click-to-click and unrestricted speedy scrolling, there's a thumbwheel for side-to-side scrolling and you can reprogram the buttons to suit your way of working.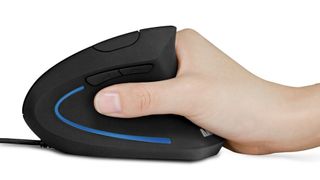 3. Anker Vertical Ergonomic Optical Mouse
It looks weird, but it feels pretty good
DPI: 1000 | Interface: USB | Buttons: 5 | Ergonomic: Vertical | Features: No
Good for RSI sufferers and prevention
Cheap as chips
Thumb buttons don't work on Macs
Unrefined
Let's get the weird one out of the way first: Anker's mouse sits vertically, so you hold it as if you're shaking hands with someone. It feels strange until suddenly it doesn't: it's comfortable and doesn't make you twist your arm as normal mice do. The price means a few corners have been cut – where other mice are a collection of curves the Anker has a couple of sharp bits to jab the unwary – but it's a good and inexpensive choice for anyone who has or fears RSI.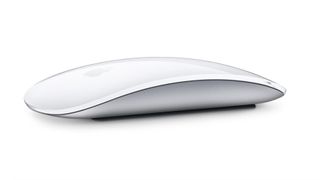 4. Apple Magic Mouse 2
As ever, Apple thinks different
DPI: 1300 | Interface: Bluetooth | Buttons: 0 | Ergonomic: Ambidextrous | Features: Multi-touch
Looks fantastic
Multi-touch is clever
Expensive
Spectacularly uncomfortable (for us; your mileage may vary)
It has its critics – including your correspondent, who thinks it's the most spectacularly uncomfortable mouse ever made – but the Magic Mouse has plenty of fans and the second version is a big improvement over the first generation. It boasts a trackpad-like multi-touch surface and moves more smoothly around your desk than the first version, and it doesn't require normal batteries thanks to a built-in rechargeable battery. Unfortunately the position of the Lightning port means you can't use it while it's charging.
5. Logitech Triathlon M720
DPI: 1000 | Interface: Bluetooth (pairs with up to three devices) | Buttons: 8 | Ergonomic: Right-handed | Features: 24-month battery life on one-AA battery, Sculpted design, Free spinning scroll wheel, Easy-switch tech, Logitech Options Software
Pairs with up to three devices
Long battery life
Not as responsive as a wired mouse
Like the MX Master, the Triathlon M720 can pair with up to three devices using Bluetooth, making switching between them in a snap. However, the Triathlon is more affordable and much more comfortable to hold if you prefer a smaller rodent. It also gets the Master's free-spinning scroll wheel, letting you zip through documents or webpages. Logitech promises up to 24 months of use before the Triathlon gives up the ghost on one AA battery. The only drawback? Due to Bluetooth, the Triathlon isn't quite as responsive as the wired Logitech Proteus G502 – our daily driver.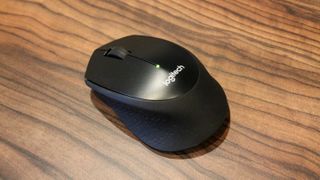 6. Logitech M330 Silent Plus
DPI: 1,000 | Interface: 2.4GHz wireless | Buttons: 3 | Ergonomic: Right-handed | Features: Quiet buttons, 10-meter wireless connectivity, 2 x AA batteries (claimed 24-month battery life)
Near-silent operation
Compact
Short on buttons
No Bluetooth connectivity
Sometimes a peripheral comes along that has the potential to change all others in its category. Logitech's M330 Silent Plus, a prime example of this, features left and right buttons that barely sqeak – ahem – click, when pressed. Using it for the first time is like booting up a fanless laptop for the first time – quiet, inconspicuous and curiously satisfying. Simply put, using the M330 feels great. With only three buttons, however, it isn't the most feature-packed mouse on the market, but its silent and compact nature, comfortable design and leggy battery life make it a great choice – and not just for frequent travellers or people with easily irritated co-workers.
Asus ROG Gladius II
A sophisticated gaming mouse for the modern player
DPI: 12,000 | Interface: USB | Buttons: 6 | Ergonomic: Ambidextrous | Features: 50g acceleration, 1000Hz USB polling rate, removeable left and right buttons, Omron switches, RGB lighting
Feels great 
Robust design 
Expensive  
Lacks some features 
While the other gaming mouse comes loaded with buttons, the Asus ROG Gladius stands out from them. It has six buttons which can be customized according to the requirement of the user.
The user also has full control over the lighting of the mouse. Apart from this, the ROG pouch allow users to carry it easily. 
7. Mad Catz R.A.T. ProX Precision Gaming
Quite possibly the maddest mouse ever made
DPI: 8200/5000 | Interface: USB | Buttons: 10 | Ergonomic: Right-handed | Features: swappable modules, analog strafe
Enormously customisable
Looks like a Transformer
Ruinously expensive
Overkill for most
If  you're going to spend Rs. 30k on a mouse, it might as well be a fun one, and  the R.A.T. ProX is definitely that: it's the Transformer of mice, with  swappable sensors, swappable scroll wheels, swappable palm rests and  what Mad Catz calls "analog strafe", which enables the scroll wheel to  act as an analog stick. It looks amazing, costs a fortune and if it were  a game it'd be Broforce: ridiculously over-the-top, completely crazy  and an absolute hoot.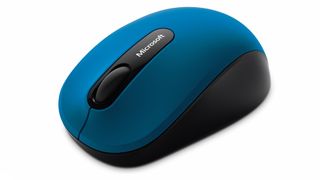 8. Microsoft Bluetooth Mobile Mouse 3600
It's cheap! It's cheerful! It lasts forever!
DPI: 1000 | Interface: Bluetooth | Buttons: 2 | Ergonomic: Ambidextrous | Features: No
Really, really cheap
Comfortable
Smaller than most mice
Basic
We've a soft spot for the good old Microsoft Mouse, and the 3600 uses Bluetooth to deliver wireless connections without dongles. It runs for up to a year on a single battery and is that rare thing, a mouse that's designed for both left and right handed use. It doesn't have 32 billion buttons, a sensor capable of tracking atoms or the ability to turn into a car and save the universe, but if you want a good, comfortable, reliable mouse to take wherever you go the 3600 is a winner.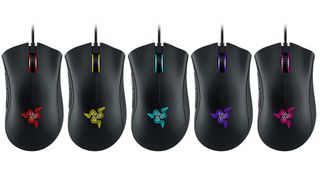 9. Razer DeathAdder Chroma
When plain old death isn't enough
DPI: 10,000 | Interface: USB | Buttons: 5 | Ergonomic: Right-handed | Features: lighting effects
Very comfortable
Very accurate
Lighting feels a bit gimmicky
Software can be a bit flaky
You just know that a mouse called the Razer DeathAdder Chroma isn't going to come in pink with My Little Pony stickers. Offering high-end performance for a pretty reasonable price, the Chroma's USP is its 16.8 million-colour lighting effects coupled with a 10,000 dpi optical sensor. It's blazingly fast, exceptionally accurate, offers on-the-fly sensitivity adjustment and looks fantastic, which is probably why it's so popular among e-sports athletes. It also has a seven-foot braided cable, which is handy if your PC is quite far away.
Read the full review: Razer DeathAdder Chroma