Whether it's snug in your PC cabinet or soldered inside your laptop, the graphics card or GPU is one of the key components for PC gaming. Without a proper graphics card, it is never easy to run most of your favourite gaming titles on those integrated graphics solutions from either Intel or AMD.
A graphics card doesn't even need to take up a ton of space. With Nvidia's cutting-edge Max-Q tech, for instance, you can run games in 4K at acceptable frame rates in a laptop measuring in at under an inch thick. However, you have to be willing to pay a lot more for high power in a compact form factor, the Asus ROG Zephyrus is the perfect example. 
AMD's new born interest in high-end components showcased by the Radeon RX Vega is proof that the best graphic cards are going to be even better in future. Anyhow, there are already plenty of great offerings from both AMD and Nvidia to pick the best GPU for your PC for any budget. In fact, we have invested some time to pick the three best graphic cards in each category.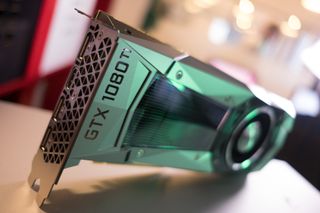 Best high-end GPU: Nvidia GeForce GTX 1080 Ti
Titan X performance without the Titan X cost
Stream Processors: 3,584 | Core Clock: 1,480MHz | Memory: 11GB GDDR5X | Memory Clock: 11GHz | Power Connectors: 1 x 6-pin; 1 x 8-pin | Outputs: 3 x DisplayPort, 1 x HDMI
Titan X-like gaming performance
Improved cooling
A pricey investment for most
If we're being honest, the GTX 1080 Ti is exactly what the Titan X Pascal should have been. Thanks to its 11GB of GDDR5X VRAM, the 1080 Ti is wildly more capable than the GTX 1080 proper without costing an arm and a leg. Performance-wise, the GTX 1080 Ti can't compete with dual-wielding 1080s, but it is cheaper and it does support a larger pool of games than two lesser cards with SLI. Aside from the mysterious absence of a DVI port, the GTX 1080 Ti is identical looks-wise from any of the other Pascal-series GPUs. Take a gander inside, however, and you'll notice a sophisticated cooling system needed to keep all of your games running smoothly in resolutions up to 4K.
Read the full review: Nvidia GeForce GTX 1080 Ti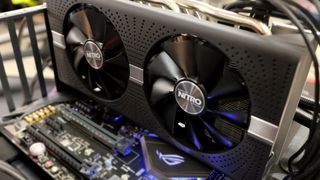 Best mid-range GPU: Nvidia GeForce GTX 1060
The best GPU to start PC gaming
Stream Processors: 1,280 | Core Clock: 1,506MHz | Memory: 6GB GDDR5 | Memory Clock: 8Gbps | Power Connectors: 1 x 6-pin | Outputs: 3 x DisplayPort 1.4, 1 x HDMI 2.0, DL-DVI
Solid 1080p performance
Great overclocker
 No SLI compatibility
As already explained, the best graphics card is all about offering the most bang for your buck. As such, it's our consensus that Nvidia's GeForce GTX 1060 is unparalleled when it comes to sheer value. For a modest sum of cash, this graphics card affords players full HD 1080p and – perhaps with a bit of overclocking – 1440p and even 4K gaming. At the same time, however, the GTX 1060 doesn't bear support for SLI, so you're limited to just one card.
Read the full review: Nvidia GeForce GTX 1060
Best entry-level GPU: Nvidia GeForce GTX 1050 Ti
Competitive for both eSports and in price
Stream Processors: 768 | Core Clock: 1,290MHz | Memory: 4GB GDDR5 | Memory Clock: 7Gbps | Power Connectors: PCIe | Outputs: 1 x DisplayPort 1.4, 1 x HDMI 2.0, DL-DVI
Solid 1080p performer
Good overclocking potential
Greater than 75W TDP
If you are into eSports and prefer high frame rates over beautified graphic rendering, the Nvidia GTX 1050 Ti is the thing for you. It's an affordable but potent graphics card that can play most eSports games well above 60fps. It's a tad more expensive than its lower-end Nvidia GTX 1050 brethren, but you'll appreciate the extra legs on this card to play future eSports titles.
Read the full review: Nvidia GeForce GTX 1050 Ti