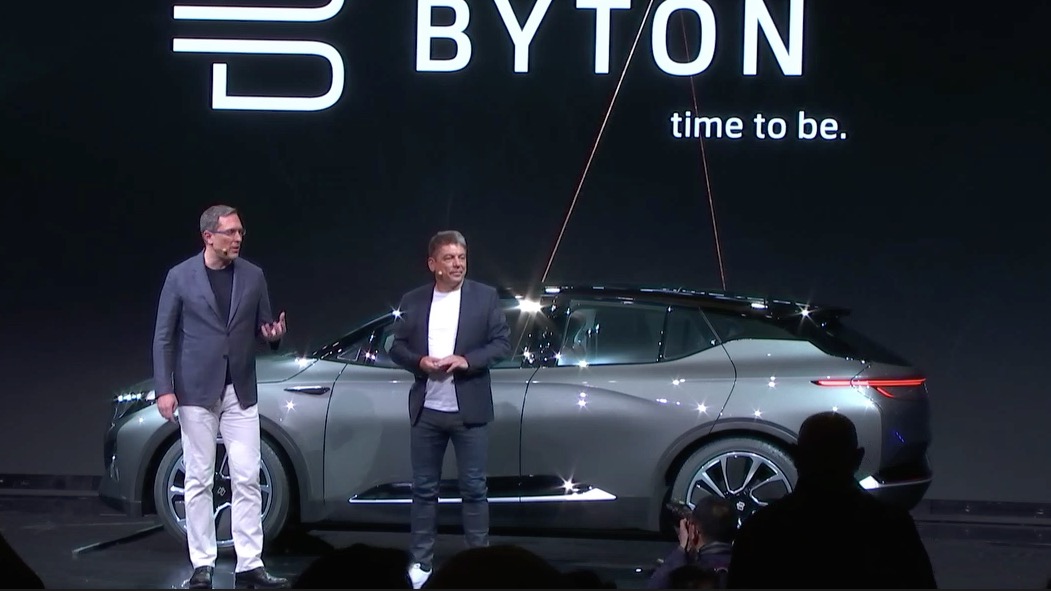 A brand-new electric car has made its debut at CES, and no, we're not talking about Faraday Future. 
This is the Byton concept car, an "intuitive" SUV that the company's founders drove onto the stage at CES 2018. It will launch in 2019 and start at around $45,000 (about £31,000 / AU$54,000). That's more expensive than the Tesla Model 3 but less than the base model of the Model X.
It's a sleek-looking vehicle, resembling the hatchback profile of the Model X. The door handles and antennas are invisible, and three color options appeared on stage; white, slate gray and a rosier shade. 
There's a touchscreen in the steering wheel, and Byton's founders say it's the first time this has been done for a car going into "serious production."
With a range of 250 miles on a single charge for the base model and 325 miles for the more advanced version, Byton's car is on the same playing field as Tesla's SUV, which has a range of up to 295 miles on a single charge. 
The Byton vehicle features autonomous driving features, naturally, and will have Level 3 self-driving capabilities at launch with an upgrade bringing it up to Level 4 within a short time. 
Amazon Alexa is on-board for voice commands and other helpful features like updating your grocery list, while facial recognition will allow the car to recognize you, and no one else (or so Byton says). It's also prepared for 5G connectivity, when the advanced network capability becomes available.